Small server rack designed for an office with 10 employees.
It contains one rack, three servers running Microsoft Windows 2003 Small Business Server, SQL 2005, and Point Of Sale applications. It also includes a firewall from //WatchGuard// and an enterprise Anti Virus and Anti Pest solution from //Computer Associates//. A nice KVM switch from Black Box completes this setup. Phone and Internet services are provided by XO Communications.

This is a data center we designed for a small office.
This is a very cost effective solution, which lets you manage your network very easily and securely. It contains two racks. In this case one is used for the patch panel, the switch, and firewall; the other is used for the server, the monitor, and the UPS backup. This design includes a firewall from //WatchGuard// and an enterprise anti virus solution from //Computer Associates//.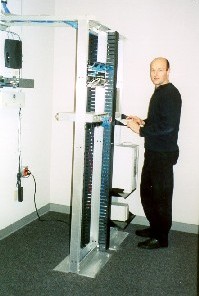 This is the data center we designed for
.
My team and I are proud of building very "clean and functional" solutions.
I have successfully built and supported this network for 100+ users in over 10 geographic locations. This network has been designed to change from an internal investment - reporting model to providing B2B services for clients. I also have designed and provided structure for the IT team with policies, standards, and documentation, and assembled an IT team with the focus on LAN support, Internet and Intranet development, Help Desk Support and Customer Service, and IT Asset Management. This network environment has been designed and implemented including: Server and Operating System Platforms, Remote Access Server, Domain Name Server, Exchange Server and Mail Support, Cabling, Firewall Protection, Switching, Network Protocols, Application Software, Virus Protection and all related aspects of a LAN environment. In addition, I have planned, designed, and implemented a data and training center, which supported users in this 20,000-square feet facility.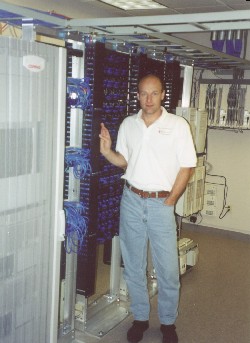 This is a data center of a large corporation.
It was improved for functionality and better management. The patch panel was re-designed. A firewall solution was installed and DMZ zones were created for better security protection. We also installed a total, network manageable UPS solution for a time sensitive shutdown in case of power failure.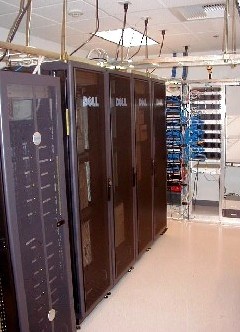 These two examples represent a new server rack with two servers, an HP switch, Linksys monitor switch, and a backup UPS by APC.
Designed for